White Industries Racer X 140mm Rear hub
Hub Data
Manufacturer
White Industries
Model
Racer X
Descriptor
Position
Rear
Axle Type
10mm
OLN
140 mm
Spoke Interface Type
J-Bend
Brake Compatibility
rim brake
Drive Interface
Shimano 8/9/10/DynaSys (34.95mm)
Internal Gearing
none
Dynamo Type
none
Spoke Hole Diameter
2.6 mm
Left Flange Diameter
55 mm
Right Flange Diameter
55 mm
Left Flange Offset
33.7 mm
Right Flange Offset
23.1 mm
Mid-Flange Offset
-5.3 mm (to the left)
Weight
272 g
URL
http://www.whiteind.com/techcorner/speci...
Metadata
Hub ID
225
Record Status
Public
Created
Mar 3, 2012 2:15pm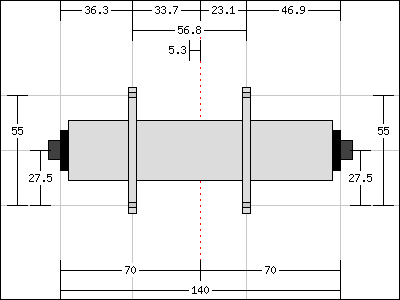 Discontinued hub. Some data from White Industries historical data page. Measurements and weight made by Karl during tandem wheel rebuild on 3/3/12.